Com achegada do Windows 11em poucos dias, um dos conceitos a que nos acostumamos é o boot seguro, um dosrequisitos para instalar o novo sistema operacionalque está presente no UEFI dos computadores que podemos encontrar no mercado. UEFI é o sucessor deBIOSque todos nós sabemos e agoraVamos ver como eles coincidem e como eles diferem.
UEFI e BIOS. BIOS e UEFi. Duas tecnologias que têm o mesmo propósito e que não é outro senãocontrolar a inicialização do nosso computadore todos os componentes que iniciam toda vez que pressionamos o botão liga / desliga.
Ambos BIOS e UEFI são tecnologias que controlam oinicialização do computador e inicialização de todos os componentes. Eles constituem uma parte isolada e quase inacessível do código que fica armazenado em uma memória separada localizada na placa-mãe do computador.
BIOS
O BIOS, sigla para "Basic Input Output System" ou "Basic Input and Output System", é o sistema responsável por gerenciar o boot de computadores mais antigos. Presente desde meados dos anos 70 (BIOS foi criado em 1975).O BIOS inicia os diferentes componentes, carrega funções como gerenciamento de energia e temperatura do computador e inicia o sistema operacional do PC.
Quando você liga o computador, a primeira coisa que carrega é o BIOS.. Este firmware é então responsável por iniciar, configurar e verificar se o hardware do computador está em boas condições, incluindo RAM, discos rígidos, placa-mãe ou placa gráfica. Quando terminar, ele seleciona o dispositivo de inicialização (disco rígido, CD, USB, etc.) e inicia o sistema operacional, dando a ele o controle do seu computador.
Na verdade, parece-lhe que, ao iniciar o computador, você encontra uma série de instruções na parte inferior da tela.Instruções relacionadas a teclas como F10, F2, F12, F1 ou DELque são usados ​​para acessar o BIOS em um computador com Windows e que variam dependendo do fabricante. Se você pressionar a tecla de atalho atribuída ao BIOS enquanto o computador estiver inicializando, poderá ver a tela do utilitário de configuração do BIOS que está procurando.
UEFI
O termo UEFI é um acrônimo para "Unified Extensible Firmware Interface" ou "Unified Extensible Firmware Interface". É o firmware sucessor, escrito em C, para o BIOS,sistema ao qual passou a suceder a partir do ano de 2005, 30 anos após o nascimento do BIOS.
O é o resultado de um acordo entre diferentes empresas de tecnologia (AMD, Apple, Dell, Lenovo, Microsoft...) que criou a UEFI Foundation em 2002 para criar um sistemaSucessor do BIOS, mais eficaz e ao mesmo tempo mais seguroe visualmente atraente.
A hora deacessar UEFIO mais prático é fazê-lo através do"Configuração do sistema"entrando na seção"Atualização e Segurança"e na área esquerda clicando em"Recuperación". Veremos então a opção de"Início Avançado"e um botão "Reiniciar agora". Então em"Escolha uma opção", nós selecionamos"Solucionar problemas","Opções avançadas","Configurações de Firmware UEFI"e então selecione"Reiniciar".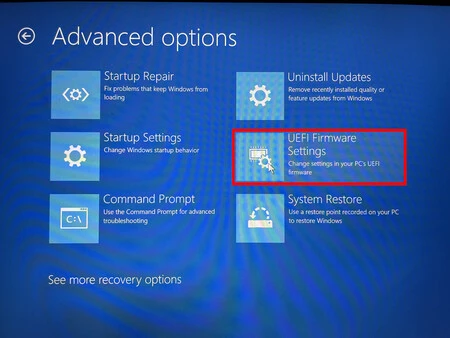 Também pode ser acessado a partir do prompt de comando se digitarmos o comandoshutdown.exe /r /oe pressione "Entrar".
Existem também variantes dependendo do equipamento utilizadoe por exemplo no Surface que eu uso consigo acessar enquanto ele está desligado apertando o botão de aumentar o volume e ao mesmo tempo apertando e soltando o botão power. Saímos pressionando o botão de aumentar o volume e quando a tela UEFI aparece, soltamos.
diferenças e semelhanças
As semelhanças entre BIOS e UEFI são muitas, já que basicamente ambas têm o mesmo objetivo e fazem a mesma coisa: controlar a inicialização de nossos equipamentos. Mas por sua vezesconder diferenças importantes que veremos agora.
O primeiro aspecto onde vemos a diferença é a interface.UEFI apresenta um design muito mais amigávele atual do que o BIOS. Enquanto o BIOS ostenta um layout que lembra o MS-DOS e exige que usemos o teclado para navegar pelas opções, o UEFI permite o uso do mouse em uma interface mais moderna, semelhante à oferecida por um sistema operacional.
Com a chegada de um design moderno, o UEFi também melhora em funções, já quepode ser atualizado conectando-se à Internet.
A UEFI introduziu oFuncionalidade "Inicialização segura" ou "Inicialização segura", um dos requisitos para instalar o Windows 11. O objetivo desse aprimoramento é impedir a inicialização do sistema operacional não autenticado para proteger contra bootkitshoras atrás vimos a ameaça, que são executados quando você inicia o Windows.
Enquanto o BIOS é executado em código de 16 bits,UEFI faz isso em 32 ou 64 bits.
A inicialização do computador é mais rápidacom UEFI do que com BIOS.
UEFI fornece suporte para o sistema de arquivos GPT.
UEFI é modular em design.
Independente da arquitetura da CPU e dos controladores.
Suporta unidades de armazenamento maiorescom até 128 partições.
La UEFIpode ser carregado em qualquer recurso de memória não volátil, o que permite que seja independente de qualquer sistema operacional. Você também pode adicionar extensões de terceiros a ele, como ferramentas de overclock ou software de diagnóstico.
FAQs
UEFI offers a graphical UI and allows users to navigate the software using the mouse and keyboard. This GUI immediately provides a system state overview from the included graphs and charts. On the other hand, BIOS offers a basic UI that can be navigated only by using the keyboard.
What happens if I change BIOS to UEFI? ›
To put it simply, switching to UEFI is a worthwhile upgrade that provides you with the following advantages: Better performance of the computer as a whole. Fast booting times. Removes compatibility issues with Legacy BIOS.
How do I change my computer from UEFI to boot? ›
How do I know if my computer is UEFI or BIOS? ›
Click the Search icon on the Taskbar and type in msinfo32 , then press Enter. System Information window will open. Click on the System Summary item. Then locate BIOS Mode and check the type of BIOS, Legacy or UEFI.
Should I change boot mode to UEFI? ›
In general, install Windows using the newer UEFI mode, as it includes more security features than the legacy BIOS mode. If you're booting from a network that only supports BIOS, you'll need to boot to legacy BIOS mode. After Windows is installed, the device boots automatically using the same mode it was installed with.
What is the advantage of BIOS over UEFI? ›
You might not need UEFI

If you have < 2 TB per hard disk or partition, you can go with BIOS. BIOS allows running multiple operating systems without changing any settings This can be a security issue from a modern standpoint, but hey, no hassles for the user. BIOS provides system information to the operating system.
What happens if I change boot mode from UEFI to Legacy? ›
When you switch between Legacy BIOS Boot Mode and UEFI Boot Mode (in either direction), BIOS settings that affect the Boot Option Priority List settings are changed and the original settings are lost. If you intend to switch back, back up your BIOS configuration.
What will happen if I restart to change UEFI firmware settings? ›
Warning: Changing the wrong firmware settings can prevent your computer from starting correctly. You should only access the motherboard firmware when you have an excellent reason.
What happens if I switch from UEFI to CSM? ›
Enabling CSM allows for legacy BIOS features that aren't supported in normal UEFI mode. CSM uses an MBR (master boot record) to boot the operating system. UEFI uses files within a larger partition to boot the OS. GPT and MBR are different specifications for disk partition formatting.
Why is that my PC is not booting from UEFI mode? ›
If the UEFI partition on your computer doesn't have a drive letter assigned, this may be the primary cause of your computer's boot error. A common is to use the diskpart utility (available on the Windows 8/8.1/10 recovery disc/USB) to make sure the UEFI partition has a letter assigned to it.
UEFI (Unified Extensible Firmware Interface) is a newer standard that replaces the legacy BIOS. UEFI offers more features and benefits, such as faster boot times, better security, larger disk support, and graphical user interface. Legacy BIOS is the old mode that uses a 16-bit code and a limited number of options.
How to make UEFI and Legacy bootable USB? ›
What is the difference between UEFI and secure boot? ›
Secure Boot is a UEFI firmware security feature developed by the UEFI Consortium that ensures only immutable and signed software are loaded during the boot time. Secure Boot leverages digital signatures to validate the authenticity, source, and integrity of the code that is loaded.
What UEFI version do I have? ›
Check UEFI (BIOS) version on Windows 11

Quick tip: Alternatively, you can also use the "Windows key + R" keyboard shortcut to open the Run command, type "msinfo32," and click "OK" to open System Information. Click on System Summary. Check the BIOS Mode information to determine whether the system is using UEFI.
How to install Windows 10 in UEFI mode? ›
Should I install Windows 10 BIOS or UEFI? ›
Is UEFI a part of BIOS? ›
Unified Extensible Firmware Interface (UEFI) is a specification for a software program that connects a computer's firmware to its operating system (OS). UEFI is expected to eventually replace basic input/output system (BIOS) but is compatible with it.
What is the disadvantage of UEFI BIOS? ›
Disadvantages: UEFI relies upon Secure Boot or vendor-specific boot protection solutions – no validation or protection of the boot process is granted simply by choosing UEFI over legacy mode. Some older hardware and software do not function in UEFI mode.
Is UEFI still called BIOS? ›
It is common in tech to refer to things using names which are technically incorrect or not very specific. The author of this thread has indicated that this post answers the original topic. It's indeed UEFI, BIOS is no longer used. But when talking about it it's still refered to as BIOS.